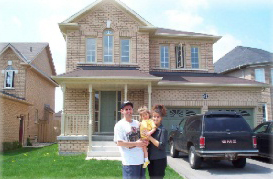 As the dust starts to settle from our move, and believe me there was a lot of dust, we are slowly starting to enjoy our new home. It seems like so long ago we began planning for the move and packing those dreaded boxes!

Until you experience a move you don't really realize the work and the stress involved in such a task. Having said that, Tina, Larissa and I are truly grateful for having had you as our agent during this trying time. You went above and beyond what was required of you on many occasions.

I recall many times when you where quick to act on anything that would make our transaction and overall experience a better one. From putting us in touch with a mortgage broker, to recommending restaurants and handyman services, to giving our daughter a teddy bear to help us through those long days associated with looking for a home. During a time when so many of the other services we dealt with were less than accommodating, your professionalism and genuine concern for our needs and wants was both refreshing and comforting.

I would like to say that it has been a pleasure having you represent us and help us find our new home. I thank you for putting up with me on certain occasions, even when I wasn't being so reasonable. Your patience and understanding is much appreciated. On behalf of Tina and Larissa, thanks again for all your hard work in making this experience a more enjoyable one.