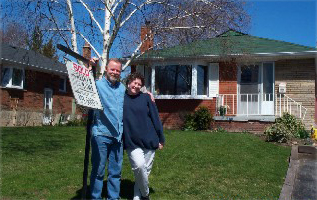 As a bank manager, you can imagine how many real estate agents I have gotten to know over the past 20 years! Even so, when the time came for our family to choose a real estate specialist, the choice was easy… Tamer Fahmi. Why Tamer? Well, firstly, I have had the opportunity to refer many of my own clients to Tamer over the years and consistently, my clients rave about him. Secondly, I wanted an agent with integrity, a good reputation among his peers, a solid base of knowledge and skills and a proven track record of success. Tamer possesses all of these characteristics and more! With his wife, Janet, as his right hand, you can count on a powerful team in your corner aiding you with these important life choices.

Hearth & Home Realty Inc. isn't a big name company! A big name firm doesn't mean your home will sell faster! Hearth & Home can respond quickly to changes in the market, much more quickly than some of those other firms. For example, Tamer has had a "Virtual Tour" web site set up for quite a while. Not all of those "big" firms have even figured out how to offer this amazing service to their clients yet!

Lastly, Tamer and Janet can seem too good to be true! They are always upbeat, enthusiastic and yes, happy! It's not a show. It's not a ploy to get you to sign with them. It's them, period! It's sincere. It's real and other professionals in the community recognize it. Their reputation is outstanding.

Make the right choice and choose Tamer Fahmi of Hearth & Home Realty Inc. You won't regret it!

— Barbara Gardiner and Tom Nielsen